The Journal of Roots Music
http://nodepression.com/

The Blues Brothers Return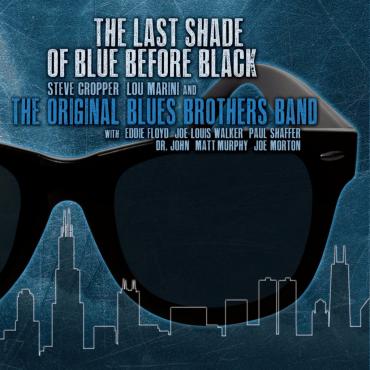 In April 1978, John Belushi and Dan Ackroyd debuted the Blues Brothers Band on Saturday Night Live. The band looked and sounded like a cohesive unit, composed of a stellar group of musicians whose members had backed soul greats including Otis Redding, Sam & Dave, Wilson Pickett and Eddie Floyd, But when some members of the first Blues Brothers band first heard Belushi's alleged singing, they were reluctant to be part of the project. Belushi won them over with his persistence and loyalty to the band and the project, and the band became a real working and recording unit. The original cast was led by keyboardist Paul Shaffer, with guitarists Steve Cropper and Matt "Guitar" Murphy, bassist Donald "Duck" Dunn, drummer Steve Jordan, and Alan Rubin, Lou Marini, Tom Malone, and Tom Scott on horns.
The band put out their debut, Briefcase Full Of Blues, that same year, recorded in September at the Los Angeles Universal Amphitheater, when the band opened for Steve Martin. Ackroyd and Belushi mugged their way through soul and R&B classics like King Floyd's "Groove Me," David Porter and Isaac Hayes' composition for Sam & Dave's soul smash "Soul Man," and the tongue twisting novelty "Rubber Biscuit," recorded by the Chips, as well as Otis Redding's "I Can't Turn You Loose."
In the 1980 movie The Blues Brothers, the band covered an eccentric mix of material ranging from Dimitri Tiomkin's "Rawhide" to "Tammy Wynette's "Stand By Your Man" to Lieber and Stoller's "Jailhouse Rock," captured on the soundtrack released that year. Made In America also released in 1980, with a soundtrack that found the Blues Brothers band covering Booker T and the MGs' instrumental "Green Onions" along with Johnny Taylor's "Who's Making Love," the Bar Kays "Soul Finger," and Wilson Pickett's "Funky Broadway."
1990's The Blues Brothers Band Live in Montreux revisited the older Blues Brothers material, but Eddie Floyd featured on vocals made this one a standout.
Blues Brothers 2000: Original Motion Picture Soundtrack was the companion piece to the '98 film Blues Brothers 2000. Otis was back, represented on "I Can't Turn You Loose" along with Cropper's great soul classic written for Pickett, "634-5789."
This latest go round, The Last Shade of Blue Before Black, is the best yet, with Floyd back as guest vocalist and Cropper, Shaeffer, Tom "Bones" Malone, and Blue Lou Marini from the core cast, and Dr. John and Joe Louis Walker guest starring as well.
There are no actors playing the role of singers here; this stuff is handled by the pros. Bobby "Sweet Soul" Harden comes from the Uptown Horns, but sings like a downhome soul man who just ran out of the church doors to play the devil's music. "You Left the Water Running" has been covered by Redding, Pickett, and Sam & Dave, but Harden's version hangs right up there with the big boys, Marini ripping out a King Curtis-worthy sax solo.
Eddie Floyd wrote and sings lead on "Don't Forget About James Brown," a funk-laden tribute to the the man Floyd labels as "King of the Mashed Potatoes: They called him a legend but his music can't be measured/ he took the formula to his grave."
Floyd co-wrote (with Cropper) and recorded "On a Saturday Night" in 1967, but he still sounds just as strong as he did back then.
Jimmy Reed's "Baby What You Want Me To Do" is unrecognizable for the first minute and a half, the horn section taking it for a ride that sounds like a big band vehicle, but the funky undercarriage keeps you wondering when it's gonna break down. It gets chopped down and dirty when vocalists Harden, Tommy McDonnell, and Rob Paparozzi do some laid-back vocalizin', but the horns drag it back into luxury-ride mode til John Tropea's guitar drops it back on the jukejoint floor.
There's a lot of outfits purporting to be blues bands, but this one's hard to top. It's great to hear a horn section that sounds this muscular but doesn't overpower the arrangements. The band pays homage to the Muscle Shoals and Stax Records sound but doesn't copy the originals note for note, letting the material expand and grow as some of the original creators breathe new life into it. Let's just hope the title isn't prophetic, and this isn't the last shade of blue before the final blackout curtain comes down. This band of blues brothers deserves a few more encores.