+ Bobby in SHORT
Performed at:
- Inducted into the New York Blues Hall of Fame 2015
- Carnegie Hall 2014
- Arhangelsk Blues 2012
- Obama Inaugural 2009
- Lincoln Center, NYC
- The Bitter End, NYC
- Calgary Stampede
- Heidi Klum's first wedding
- King of Morocco Mohammed VI
Commercial Jingles:
- American Express
- Budweiser
- Holiday Inn
- Slimfast
Performed with:
- Bobby Harden & Soul Purpose
- Original Blues Brothers Band
- Stew Cutler & Friends
- The Uptown Horns Revue
- Scott Hardkiss
Nov 2nd, Bobby Harden & Soul Purpose live at the Bitter End One set 8pm to 9:15pm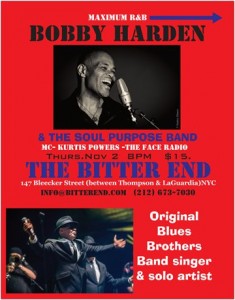 The Original Blues Brothers new "The Last Shade Of Blue Before Black" is available
https://www.amazon.com/s/ref=nb_sb_ss_i_4_12?url=search-alias%3Daps&field-keywords=the+last+shade+of+blue+before+black&sprefix=The+Last+Sha%2Caps%2C135&crid=3PUM2MZJ6RLO8
Bobby Harden featured on 5 tracks on Stew Cutler & Friends new CD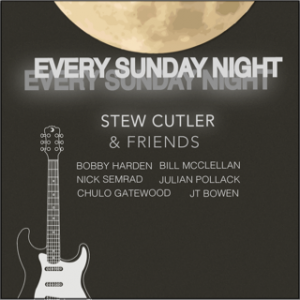 Check out the latest review.
http://www.seattlepi.com/lifestyle/blogcritics/article/Music-Review-Stew-Cutler-Friends-Every-11280213.php
Bobby Harden's "Not Ready" video is featured in ION Indie Magazine
Bobby Harden's new video "Not Ready" featured in ION INDIE MAGAZINE
The August 2017 edition of ION Indie Magazine is now LIVE! It's completely free…so check us out!
http://www.ionindiemagazine.com
New video of "Not Ready" from River of Soul CD
Written by Brian Knox (BMI) and Bobby Harden (ASCAP)Produced by Brian Knox, Steve Jabas, and Bobby Harden Available on iTunes, CDBaby, Spotify and AmazonFilmed at Arthur's Tavern, NYC and The Cave Studio at Far West, Westbeth in NYCVideography by Anana Kaye and Irakli Gabriel Special thanks to Joyce Stovall, Carol Sylvan,Nick Cranston, Rouen Brazil, Richard Rollison
New video "Where Is The Love"
"Where Is The Love" Written by Bobby Harden (ASCAP) and Gene Torres (ASCAP) Video produced by Anana Kaye and Irakli G. Available on iTunes New "River Of Soul…
New River of Soul CD available on CDBaby, iTunes, Amazon
Click on the links below to buy River of Soul CD 
CDbaby  (hard copy and mp3 downloads)
http://www.cdbaby.com/cd/bobbyharden
itunes (mp3′s only)
https://itunes.apple.com/us/artist/bobby-harden/id216798055
Amazon (hard and mp3 downloads)
http://www.amazon.com/s?ie=UTF8&page=1&rh=n%3A5174%2Cp_32%3ABobby%20Harden
Bobby Harden and Soul Purpose performing at The Slipper Room
Bobby Harden new music video of "Pure and Simple Love"
BOBBY HARDEN INDUCTED INTO THE NEW YORK BLUES HALL OF FAME @ BB KINGS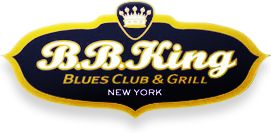 On August 4th, 2013 – Bobby Harden
was inducted into the
NEW YORK BLUES HALL OF FAME
@ B.B. King Blues Club & Grill, NYC
Hosted By The Michael Packer Blues Band
Bobby Harden  (Lead singer of The Original Blues Brothers)
"Bobby inducted into the New York Blues Hall Of Fame"
See Blues Hall of Fame Photo Gallery
New York's Soul Man
Singer/songwriter Bobby Harden delivers honest, straight-ahead R&B in his debut CD Soul Purpose on Nyota Records. Soul Purpose is a traditional project built on good story lines, generous melodies, solid grooves and powerful vocals.
There is a dependable lack of clutter in the production. The influence of traditional R & B and Soul recordings are brought to life with material that is fresh; songs that command you to listen again and again. The lyrics are drawn from universal emotions that, according to Bobby, "even your mother can enjoy."
Bobby has earned an international reputation as "New York's Soul Man."